CS-8080HD
DEFINITIVE TECHNOLOGY (CS-8080HD) CENTER CHANNEL SPEAKER WITH BUILT IN SUBWOOFER
HEAR AND FEEL THE POWER OF DEFINITIVE TECHNOLOGY'S BEST CENTER CHANNEL SPEAKER
Treat your ears to the drama and intensity of home theater sound like they've never heard before. Unlike conventional center channel speakers, the CS-8080HD has a 5" x 10" subwoofer, reinforced by dual passive radiators and driven by a built-in 300-watt amplifier. It reproduces the vocal nuances of your favorite actors while ensuring that any special effects that are anchored to your screen have full bass impact. Get ready for dynamic performance and a huge, three-dimensional soundstage from all three of your front speakers.
HIGH-TECH DRIVERS FOR EXCEPTIONALLY DETAILED SOUND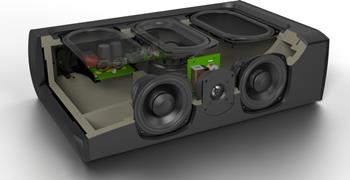 The CS-8080HD has two 5-1/4" midranges flanking a 1" dome tweeter, for perfectly blended highs and mids. The pure aluminum dome tweeter has a silk surround, which helps it reveal lots of sonic detail without ever sounding harsh. And thanks to Definitive's Balanced Double Surround System (BDSS) drivers, your movie dialogue and special effects will sound clear, never muddy. The upward-firing woofer requires only one inch of clearance, so this powerful speaker works whether it's placed in the open or in an A/V cabinet.
Build a complete Definitive home theater system using perfectly matched bipole towers (see the BP-8020ST, BP-8040ST, BP-8060ST, and BP-8080ST) and surrounds (see the SR-8040BP and SR-8080BP).
GOT WIRE?
Most speakers don't include any. Learn about choosing and installing speaker wire at the Crutchfield Learning Center.
Shop our selection of speaker wire.
DID YOU KNOW?
Your new speakers will probably sound better after several weeks of use than they do right out of the box. That's because the material surrounding the woofers will loosen up, allowing the drivers to move more fully. Definitive Technology estimates a break-in period of 24 to 48 hours of playback before the speakers will deliver optimum sound quality. For more information and helpful tips, check out this article from Definitive's website about conditioning your speakers.
FEATURES:
Balanced Dual Surround System (BDSS) driver technology places rubber surrounds on both the outer and inner edges of each speaker cone for improved clarity
Frequency response 20-30,000 Hz
Sensitivity 92 dB
8-ohm impedance
Handles up to 300 watts
Dual 5-1/4" midranges
One 1" pure aluminum dome tweeter
Upward-firing 5" x 10" 300-watt subwoofer
Dual 5" x 10" bass radiators
One set of 5-way binding posts
LFE line level input (optional) for subwoofer
Detachable power cord
High-gloss black finish on side and bottom caps with cloth grille-wrapped enclosure
DIMENSIONS:  23-1/2"W x 6-7/8"H x 16-1/4"D