AQUATIC AV (AQ-MP-5UBT-HS) DIGITAL MEDIA RECEIVER FOR SELECT 1998-2013 HARLEY-DAVIDSON® MOTORCYCLES (DOES NOT PLAY CDS)
A COLOR SCREEN, PLUS HIDDEN STORAGE
Ready to upgrade your Harley's audio system? Aquatic AV's AQ-MP-5UBT-HS is a tough, smart all-weather digital media receiver that's ready for the road. It has built-in Bluetooth connectivity, a super-sharp color LCD screen, and a clever internal device shelf that'll hold your smartphone or media player. Plus, it gives you the option of adding satellite radio, always a good thing on a long trip. Designed to fit select 1998-2013 touring bikes, this radio comes with Harley-specific mounting brackets and a direct plug-in to your Harley's wiring harness.
PLAY ANYTHING (ALMOST)
The AQ-MP-5UBT-HS gives you lots of entertainment options. You can enjoy your favorite AM/FM stations, connect an MP3 player to the internal USB port or the two aux inputs, or just take advantage of the Bluetooth® connectivity to enjoy your tunes. The big control knob makes it easier to manage your music when you're underway, plus you can also control the music directly from the handlebar controls.
SIRIUSXM SATELLITE RADIO
You can also add a SiriusXM satellite radio tuner (not included, requires subscription). Satellite radio offers an unparalleled variety of music, news, sports, and talk, and your favorite channels will stay with you, even when you're in the middle of nowhere. No wonder it's a feature more and more motorcyclists are looking for.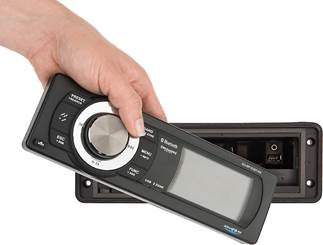 Remove the face and store your device in the hidden compartment.
BUILT-IN SHELF FOR YOUR PHONE OR DEVICE
Behind the removable, water-resistant face, you'll find a handy shelf that'll hold most phones and music players. Connect to Bluetooth (Apple or Android) or connect your iPhone to the USB port, replace the face, and hit the highway. You'll be able to enjoy your tunes without worrying about your device getting damaged.
READY FOR THE OPEN ROAD
Weather happens, and this IP55-rated receiver has a conformal-coated circuit board that keeps moisture from fouling the internal circuitry. The removable face is UV-resistant, so it'll stand up to bright sunlight.
Bluetooth note:  Use of this receiver's Bluetooth features will depend upon your phone's Bluetooth capabilities. Learn more in our article explaining Bluetooth profiles.
iPod/smartphone note:  If you're going to use your iPod or smartphone with this receiver, be sure to check "Details" for compatibility information.
This marine digital media receiver will not play CDs.
FEATURES:

Waterproof digital media receiver with AM/FM tuner
Designed for 1998-2013 Harley-Davidson motorcycles
Built-in Class A/B amplifier
Color LCD screen
Water-resistant storage pocket behind removable face
Built-in Bluetooth connectivity for Apple and Android phones
Connect your iPhone to the USB port
SiriusXM Ready (requires SiriusXM tuner and subscription, sold separately)
Control your music directly from the handlebar controls
Includes Harley-specific mounting brackets for easy installation
Plugs directly into your bike's factory wiring harness
IP55-rated for moisture and dust
SPECIFICATIONS:

Power rating: 24 watts RMS x 4 at 4 ohms (45 peak); 39.99 watts x 4 at 2 ohms (72 watts peak)
Frequency response: 20-20,000 Hz
Current draw: 6mA (standby), 7A (max)
OTHER INFO:
Inputs: aux (minijack), aux (stereo RCA), internal USB, rear USB (charging only)
Outputs: 2-channel 4-volt preamp outputs; 1-channel sub out
UV-resistant face, conformal-coated circuit board